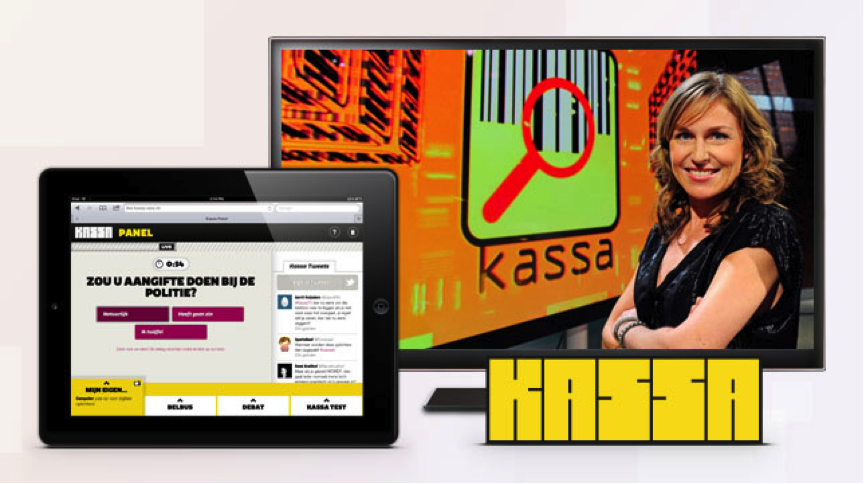 Image Source: Deltatre
A couple of months back a particularly alarming pair of reports dropped onto the wires with the force of a pair small thermonuclear weapons, both of which seemed to confirm the worst fears of the second screen community that users are not interested in what we're doing.
Quelle horreur! The first report, from TiVo, detailed how, in large part, users are not all that interested in multitasking around their favourite programmes. They have tried to multitask, but when it comes to using the net to research shows, they prefer to do that before the programme actually airs only (and this is a qualifier we will look at in some detail momentarily) 27% actually do this during the programme. The other particularly troubling piece of information showed that while 68% of viewers noticed social media hashtags, a mere 3% of them actually enjoyed seeing them. Troubling indeed.
The second study, published by the Consumer Electronics Association (CEA) and the National Association of Television Program Executives (NATPE), made unpleasant headlines when it found that 13% of viewers found that the second screen made their TV watching experience much more enjoyable. 60% of those that access synched second screen content agree that it is fun to use, but the larger majority said that they don't access such content because they don't know which programmes offer it or they're simply not interested.
So, two studies that reveal some very uncomfortable facts about the second screen, at a time where the medium is really entering its make or break stage. There are a number of second screen products on the market all vying for space, but are they grabbing attention like they should be? On the surface, these studies suggest not, and that's bad news for anyone vested in the success of the second screen space.
Enhance, don't distract
I have a suggestion to make; let's get the negative stuff out of the way first, shall we? I think doing that will set a much more optimistic tone for this article overall if we agree to do that first, and then end on a positive note. Agreed? Good.
We'll start with the TiVo study of the 1500 TiVo households surveyed, all participants were over the age of 18 and only 12% came from social media sites. Second screen is generally speaking a technology that skews towards tech savvy millennials (as most new tech does), so discounting anyone under 18 (do they not watch TV?) automatically skews the results in a big way.
So, with the sample size that appears skewed in order to give certain results/confirm certain assumptions dealt with, let's look at the other major finding only (told you we'd come back to that), 27% of those surveyed use the internet during a programme. Second screen has been around for two, maybe three years as a viable format. Look at the most recent big media shift from DVD to Blu-ray, which started in 2006. We can see that it took that format 4 years to cross over 25% usage: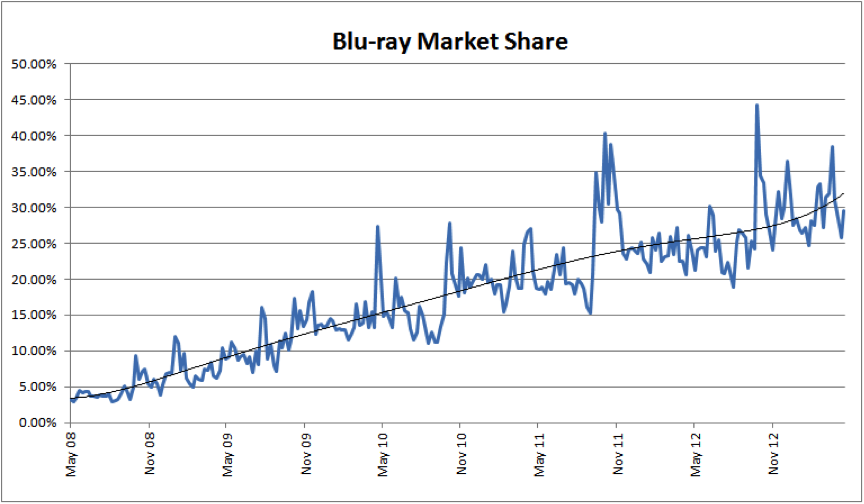 So I'd say second screen is doing pretty well at this stage, especially when the only 27% figure comes from a sample that seems to be skewed against most likely to engage with it.
I'm not calling Tivo's findings invalid, one thing that interactive second screen apps seem to fall foul of over and over again is presenting viewers with too much information too often. Remember, they want to watch the TV show, not your app. Enhance, don't distract.
Moving swiftly onto the other study, from CEA and NAPTE 60% of those that access synched experiences agree that they make the show more fun, but most users don't access them due to ignorance of their existence or having little interest. In addition, only 13% found that the experience made the show much more enjoyable. These are the numbers that really cut to the heart of what I want to discuss, and that's how to make the second screen work.
Looking Overseas
There's a big issue that underpins everything we're about to discuss: Is the market ready for second screen? Or, maybe I should be more blunt is the US market ready for the second screen? Both of the recent studies cited here have come out of the United States, a media market still stuck resolutely in the mind-00s. Sorry America, I love you, I love your bacon milkshakes and I think you're great at innovating, but your major markets are dominated by massive corporations that are inherently hostile to change and heavily invested in maintaining the status quo Netflix in the USA still mails DVDs and America is the only advanced economy on the planet that still relies on signatures for credit card transactions rather than Chip and Pin it's not just the TV industry where the United States has some serious catching up to do.
So it's clear, America is not where we should be casting our eye to understand what success means on the second screen. Where else to look then? Come with me as I journey with you to the far of region of Northern Europe, our guiding light in the world of second screen advancement.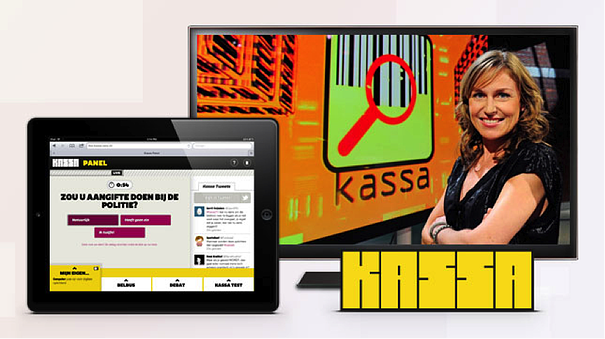 Ex Machina Group
At Piksel, we work very closely with Ex Machina, a company based out of the Netherlands who specialise in delivering interactive experiences to the connected devices. I was talking recently with their CEO, Jeroen Elfferich about successes they'd had on the second screen, and he provided me with a list of projects they'd worked on that would knock most of the things the UK or USA out of the water:
What do I Know?! A quiz show that has seen 500,000 users during a single episode (that's 3% of the entire population of the country) and regularly delivers over 100,000 users per episode.
Deal or No Deal Bingo The classic format in a bingo setting, sees conversion rates of over 10% of the audience every episode.
The Voice of Holland Holland is the birthplace of The Voice show, and the show sees an audience of 3 million viewers download the second screen app 650,000 times with over 10 million sessions in one season
If we extended the success of just one of these shows (let's use What do I Know?! as an example) to the USA, we'd be looking at a second screen audience of around 9.5 million users, something show executives and advertisers would kill to get their hands on. So why can't they? Why has Northern Europe seen so much second screen success when everyone else is still playing catch up?
So, How Do We Make This Work?
Talking to Jeroen, it becomes clear that there are three primary issues that need to be considered with care before deciding to pursue second screen:
Are you prepared to employ best practices? Just to name a few: provide on screen calls to action, provide feedback on how people are participating during the programme, reward people who engage and extend the experience outside of broadcast times.
Is there a demographic fit for that programme? After all, second screen appeals more to millennials than baby boomers.
Does the show type/format lend itself to second screen? No matter how much you try, people want to watch Game of Thrones more than they want to see an interactive map of Westeros. Save that for after the show.
Second screen, when done right, can make the TV experience more enjoyable to viewers the study from CEA and NAPTE confirms as much but in order to achieve this time and effort needs to be spent in understanding first if, then how, the show format can lend itself to the second screen. It is no longer enough to dump a Twitter feed and relevant keywords alongside a news feed, a couple of images and/or trailers and expect viewers to be satisfied. They should rightly expect more than that. Users know you're harvesting their interaction data for analytics, and likely advertising to them on their iPad in conjunction with the programme, and they don't mind that. As long as they're getting something of value that enhances their viewing experience, they're willing to tolerate this.
Let's use an example game shows lend themselves naturally to this kind of behaviour, while dramas don't. Why? Because they want to watch the the drama programme, but they don't want to feel like they're taking part in it. So, when Hannibal is on, don't pepper the user with trivia questions, polls or product placements every 10 minutes. Their attention is on the show. During the commercial break, they may be happy to engage with these interactive elements then, as there is a natural break in the show. Doing it this way means ads can also be served to them when you know their eyeballs are likely to be diverted to their connected device. Put simply, it's more important to understand the needs of your viewers and users than your advertisers. If your second screen product sucks, all the advertising in the world won't change the fact that no one will use it.
So don't be swayed by those invested in maintaining the status quo and reports that American users are or are not engaging with the technology. Be mindful of it, sure, but look to regions where second screen is thriving and understand why. See what they're doing differently; the languages may not be the same, but the desire is I want to watch TV, and engage with additional content. Implementing second screen really well is not easy, nothing worth having ever is; it requires investment, messaging, ongoing support and a clear strategy of how its going to be used. When done right, as demonstrated by how successful the medium is in Northern Europe, where entire percentages of the population are engaging with the experience, it is well worth the time and investment needed to make it work.
Let's talk second screen.
I'll be discussing second screen and previewing Piksel 2Si's new interactivity features at The National Association of Broadcasters (NAB) Show in Las Vegas from April 7-10:
- On stage at MESA's 2nd Screen Sunday, Las Vegas on April 6, 2:15pm PT
- Akamai's NAB booth, Las Vegas, #SL 4525 on April 7 at 9:30am PT and April 8 at 4:30pm PT
- The Piksel booth (#SU 8905), April 7-10
Catch me after one of the above demonstrations or find me at the Piksel booth (#SU 8905). Book a meeting at piksel.com/nab2014.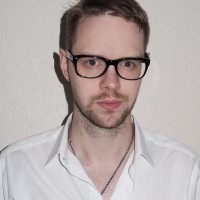 Miles Weaver is the Product Manager of Piksel's second screen application, 2Si. He writes on technology, entertainment and culture at www.milesweaver.com. Connect with him on Twitter with @mrmilesweaver or @piksel.