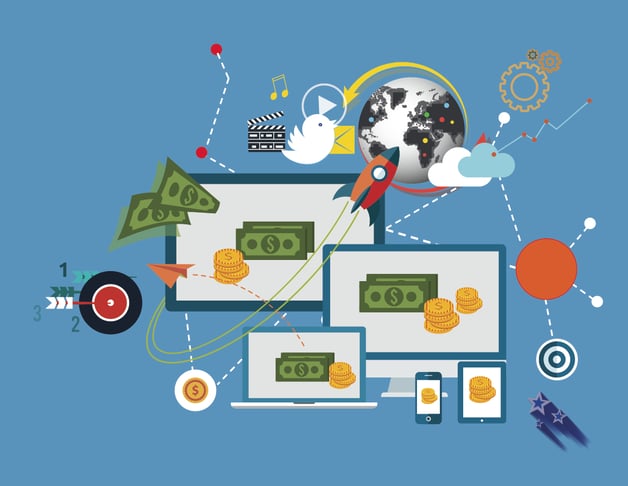 Maddox is a late twenty-something woman. She's recently married, has a one-year old son, and works full time as an office manager at a financial company. She lives in North Carolina, and during her free time she enjoys media content that is musically related. The Voice and Glee are her favorite programs, along with older films: the Original Mary Poppins, The Music Man and Funny Girl. She's comfortable using a variety of platforms – free-to-air (cbs.com), subscription (Netflix), and direct sell-through (iTunes) and she likes watching her content on-demand or in catch-up, as her schedule doesn't allow her to catch many programs on cable.
Whether you are a content creator, broadcaster, or multi-service operator, Maddox could be exactly the target audience you're looking to engage with. But depending on who you are - and what you have to offer her and her family - the way you reach her presents a distinct set of challenges.
The Internet-TV business is a young, but burgeoning market. Breaking into the market might not sound difficult, indeed, many organizations could be considered as "in the market" simply by offering some form of media entertainment online. The real struggle begins when a broadcaster, content producer, or other organization seeks to create better value for their viewers and to gain profitability.
At an increasing rate, Millennials like Maddox are watching more content over-the-top. In fact, more Americans in general are viewing content over-the-top; the rate has doubled since 2012.
The market is clamoring for more content, and even though there are major players (Netflix, Hulu) in the market, the industry is young enough for a new provider, one that could potentially change the industry yet again. That provider could be you.
Utilizing Your All-in-One Tool: Internet TV Business Modelling
Internet TV Business Modelling (ITVBM) is a method to understand the wide and complex nature of market; to develop a service that is viable and can reliably grow; and a process in which a service provider can test different types of offerings and measure their potential performance. It's like the Swiss Army knife of testing and predicting outcomes for your content service.
When applying ITVBM, you are assessing far more than how well a specific type of content will perform. You are measuring specific types of demographic sets, such as moms like Maddox and whether or not she'd use a new content service that caters specifically for kids. The model tests how much content you'd need and what costs would be associated with building an internet-TV service, as well as the likely impact and effect of competitor activity on profit margins.
ITVBM reaches beyond the requirements of building a service by also examining economic viability within your preferred region, along with must-have technology solutions. The financial obligations of building and resourcing an online video platform versus selecting a third party, or delving into the deep world of content protection and player requirements are both examples that provide their own complex set of variables in formulating the right service offering.
On further examination, those new to the market will see that setting up shop to create a lasting internet-TV business takes some serious know-how. The whole category of over-the-top is changing and exploding with growth – with a number of factors to consider from a market, technology, and content rights point of view. For example, cost to acquire content, cost to encode and transcode, the number of devices and platforms you'll need to support, how much to invest in marketing to attract new subscribers. All with implications that could possibly make or break your service offering. The key to mitigate that risk is to apply an ITVBM solution to predict present and possible future outcomes, depending on the wide set of variables you choose to test.
Creating 'The Vision' with ITVBM
Getting back to Maddox and her family - you may have a distinct idea of how to create and serve Maddox's consumer behavior, maybe with an expanded plan to grow into other content areas that would serve her husband, or for an older demographic with a completely different set of interests. Even the most comprehensive of business plans, or existing content services benefit from utilizing Internet-TV business modelling to assist with every angle of launching or iterating a content service. There are hundreds of variables to examine. From market analysis, choosing the best revenue model, mitigating risk, and everything in-between, an industry-specific model is crucial to separate you from smaller competitors turning you into a major contender in the marketplace.
As they say, knowledge of course, is power.
Discover the specifics of Internet-TV Business Modelling by downloading our whitepaper - Modelled for Success: Unraveling the complexity behind creating a viable internet-TV business.