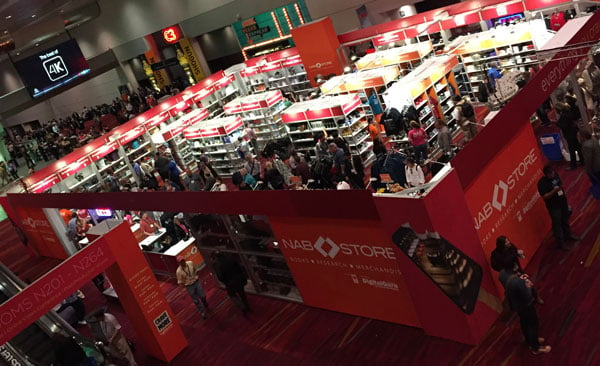 The last few years at NAB there's always been a shiny object that everyone must see. Last year it was 4K/8K, the year before there was a ton of focus on second screen and connected devices. We were constantly looking at a revolution in the way, shape or form we consume content. Not so this year. NAB 2015 is a show of consolidation and standardization.
There were, as always though, 7 distinct trends across the show floor worth highlighting if you weren't able to get there yourself:
1. Linear Is Not Dead
Despite the growing demand for SVOD, TVOD, EST, and AVOD services, live and linear content will remain relevant for customers looking for the communal experience that comes with watching a live event, particularly important for news, sporting events, and the premiere of a TV series.
2. Analytics Are a Must Have
Analytics and the value-based insights derived from them is truly a must have for TV operators wanting to remain relevant in our current market. Almost everybody is talking about analytics and how important it is to learn from viewer behavior and customer habits, not only their content consumption but also the context. The discussion has evolved from merely about big data collection to more practical ways to analyze data with the goal to obtain returns by providing additional value to viewers through implementation of improved search and discovery, personalization, and social features, etc. At Piksel, we call this value-based analytics.
3. The Cloud
It was surprising to see such focus given to the cloud this year, given how ubiquitous it has been for the past several years in the technology sector. It seems there is now quite a push a foot from across the broadcast industry to begin to transition to cloud based storage solutions. This has obviously been less of an issue for tier 1 entities, who have been changing to cloud based storage solutions for some time now, but its tier 2 and 3 level companies that are now being given an opportunity to get into the cloud.
4. Picture Quality
To supersede the 4K/8K's from last year, UHD screens were pushed hard as the next step in the march towards better image fidelity. This year however, the screens are not the focus, the content is. While 4K TV sales are relatively strong and prices are dropping at a reasonable rate, the amount of content available is minimal – the industry is aware of this, and from production to encode, creating and distributing UHD content is one of the big focal points of NAB 2015.
5. Growing Importance of UX
Growing discussions are talking place on how important the user experience (UX) has become in OTT services. The quality of the user experience should be seamless with no interface gaps between content consumption, easier authentication processes, easier payment processes, and a shorter time/path to content. We're getting there!
6. Metadata Consolidation
A surprising amount of attention given to consolidating and standardizing metadata across services. As OTT services begin to mature and put several years under their belts, the workarounds for what were easily ignorable issues – things like multiple metadata formats that aren't consistent or compatible – it's clearly been felt that now is the time to not only fix but also standardise and consolidate them. This can only be a good thing, as it drives better user experience and platforms with far greater levels of stability.
7. The Drones Are Coming
I get the feeling that NAB's organisers knew this would not be a year of sexy, shiny things that drive footfall. Thus a large amount of square footage has been given over to the Drone Pavilion, an area where the benefits of drones in the commercial space is heavily highlighted. Of course, footfall is largely from people who want to see flying robots, but the numerous applications for drones for broadcast was highlighted and as close to 'must see' products as the show has.
It's been an interesting show. To have that moment arrive where we're all focussing on making this stuff work rather than trying to invent the latest greatest earth breaker. It's a sign of the gradual maturing of an industry that for so long has been keen to enjoy its new kid on the block status.
Miles Weaver is Piksel's Innovation Lead, overseeing the strategy, development and management of concepts stemming from Piksel's Innovation Programme. Miles is an avid commentator on the digital TV revolution speaking regularly at industry events and being published in The Guardian and Read/Write. Connect with him at @MrMilesWeaver