MCNs are so hot right now, right? Now you know what an MCN is and we've discussed the top three you should keep your eye on let's focus on some of the trends that are driving the proliferation and popularity, and discuss why you should take note.
1. Millennials: How the Next Generation is Consuming Video
It's clear that younger generations are attracted to shorter-form video and find it convenient and entertaining to watch content on portable or mobile devices. We can see in the chart below, based on a study developed by the New York Times and published by Strategy& and PwC, there are big gaps between the different generations' video consumption behavior, where TV is losing popularity amongst younger generations who prefer alternative devices to access their content. Content wise, MCNs have proved to be successful in listening and responding to what millennials are asking for. The type of short-form content that appeals to millennials varies along the same lines as traditional but differs in format, with an emphasis on "unfiltered authenticity". This allows viewers to better identify themselves with the content creators, viewing them as peers and as influencers, more so than celebrities and actors. Since the production levels are much lower compared to traditional and professional content, the costs creating the content are far lower, giving creators much more flexibility to adapt to what is trending. User generated content is more opinionated about certain topics, without the constraints of regulations that exist in traditional broadcast media. MCNs taking advantage of these factors are giving younger generations what they crave: fresh, fast, and on point news and views. Determined to keep up, traditional content creators and media companies are beginning to experiment in this style. When doing so it is important to truly understand the younger generations' video consumption habits, from both a content and context perspective, in order to anticipate their needs and stay ahead of the market dynamics.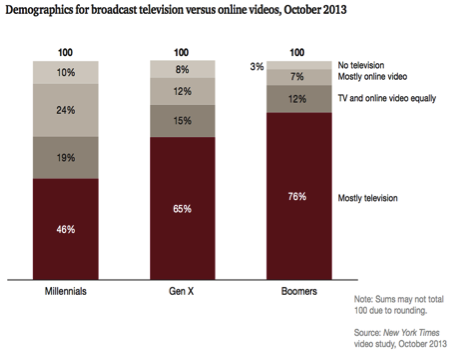 2. Devices: Fragmentation and Mobile Penetration
There is an upward trend towards mobile device usage across the globe. In fact, the growth of global mobile device adoption combined with the rapid increase in mobile broadband penetration are also driving the consumption of content through alternative channels such as MCNs. People watch more short-form content using mobile and portable devices than they do with more traditional screens such as TVs and laptops. This can also attributed to the fact that technology is making video delivery far more efficient, using less bandwidth and increasing quality. Based on research from KPCB Mobile, digital media time in the US is now significantly higher (51%) on mobile devices than desktop (42%). Both MCNs and traditional pay-TV providers should pay close attention to this trend. Those who are not currently offering, or planning to offer their content through mobile network channels, will soon be missing a big part of their addressable market (which is, by the way, already being targeted by MCNs) and run the risk of becoming obsolete.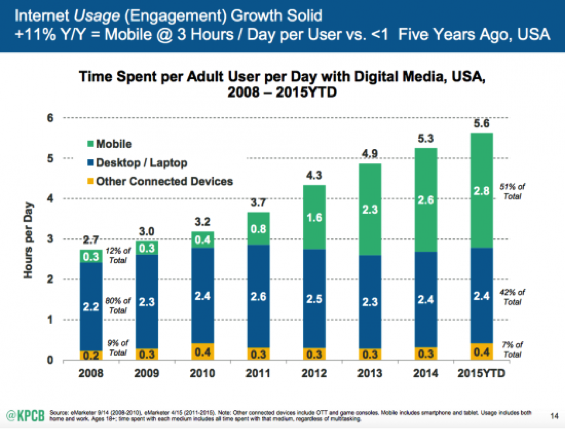 3. Advertising: Spending Dollars Migrating Online
Advertisers have taken note of the changes in how users consume video content and are following them to digital platforms. With advertisers investing more and more online, this will surely surpass the traditional TV ad investment in the next few years. A PwC study suggests 75% of media buyers are likely to shift advertising dollars from traditional TV to digital video, and this trend will only increase. This is why traditional pay-TV providers must continue to invest in attractive online offerings in order to meet the needs of both advertisers and viewers. A 2015 eMarketer study showed that mobile ad spending currently accounts for 49% of digital ad spending with growth projected to almost 70% by 2018. At this point it's likely for mobile to become the dominant digital ad spend. The MCNs business model is predominantly ad based, which fits with the current trend of more ad spending migrating online. With advertising dollars quickly moving towards online alternatives, this is favorable for MCNs, but at the same time it is one of the most noticeable warnings the pay-TV industry. Facing the status quo with smart and timely OTT advertising strategies can turn this threat into a big monetization opportunity.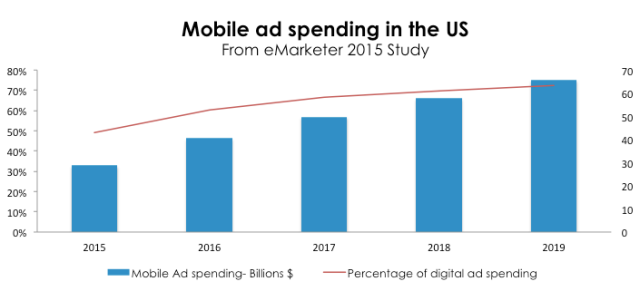 4. Audience and Content: No More Geographical Barriers
As streaming technology broadens viewers' options, their appetite for content is going global. DramaFever.com and Viki.com are already providing legal alternatives to watch subtitled international content in the US. Bollywood blockbusters, Korean dramas, Japanese anime, and Nigerian movies are attracting new viewers outside their traditional audience (and not only ex-pats), representing a huge opportunity for content creators to liberate their inventory and reach audiences that previously were not considered as an addressable market. What began as a way to target niche demographics, now is a way to provide quality content to a larger audience. According to a USA Today article, 85% of DramaFever viewers, a service which specializes in South Korea dramas, are non-Asians. We can also see this trend impacting consolidated OTT players in the US like Hulu, Netflix, and YouTube, which have started to invest in international content for their US based platforms.
Simultaneously, consumers from emerging markets are starting to consume more online content through mobile or fixed networks. Penetration of broadband is growing globally and many regions are leapfrogging towards more advanced standards in the race for access to broadband. Many emerging economies are mobile-first and this reflects in the large growth we see in media consumption also being mobile. Many media companies are building global distribution networks in order to address this opportunity. Again, it is a compelling scenario for the proliferation of MCN's that are looking to address this new, content hungry audience.
The whole video consumption paradigm is changing. There are no more frontiers, and MCN's are proving it so. Everyday becomes easier for viewers to access whatever content they are looking for, in the most convenient way they want it. Those who understand, embrace, and switch more quickly to the new paradigm will have greater chances to succeed in the new and exciting world of video content.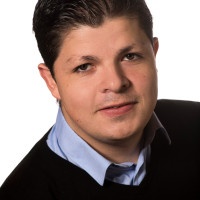 Christian Mendez is Piksel's Market Intelligence Manager and is constantly studying the online video market, recognizing market trends, and identifying early warnings. Christian provides timely insights and wider market visibility to advance Piksel customers business objectives helping them to stay ahead of the market. Connect with him by email: christian.mendez@piksel.com