With the top ten Multi-Channel Networks (MCNs) on YouTube generating 370 million views in the first week of August 2015, most would agree that the partnership between YouTube and the world's most successful MCNs are striking many of the right cords. The nature of the relationship between video platforms and the highly specialised 'talent agents' that work across their channels, would best be described as symbiotic; YouTube, along with user-generated platforms such as DailyMotion and Youku, offer huge audiences keen to feast on the vast and varied range of content that is constantly being uploaded. In turn, MCNs deliver greater organisation to the platforms, driving opportunities across the wider web to create sustainable online-video careers.
Yet, in the past few years there has been a noticeable shift in the way that the industry views the growing potential of MCNs, as they gain increasing recognition for their expertise in online talent acquisition and development. Last year, Disney paid $500 million to acquire Maker Studios, highlighting the growing importance of the MCN business model and market confidence in its long-term profitability.
Up to this point, MCNs have trodden a relatively gradual path towards maturity, but an accumulation of factors are now pushing MCNs and their talent to take a more proactive approach to extending their online presence. One such incentive has been the increasing accessibility of technologies that, with the right business model and technical expertise, enable businesses to build a successful platform from scratch, establishing, cultivating and giving real identity to the brand and talent it supports.
The opportunity to generate greater revenues from direct-to-viewer platforms, to gain the finances for re-investment into more professional production, to reclaim control of their own content and to embed ad opportunities that better meet the audience's and specific needs are other, equally compelling reasons. However, there is also another simple, yet crucial motivation driving savvy MCNs to look outwards; capturing the attention of a growing pool of millennial viewers that are searching beyond established platforms like YouTube.
With this in mind, content network giant Endemol Beyond USA recently launched a new direct-to-consumer platform, GetBeyond.US. The new website, designed and developed using Piksel Hive features video content from the likes of the wildly popular Michelle Phan, mainstream celebrities like Pitbull, and Vine star Brittany Furlan. Putting all their content in one place offers a single point of engagement for Endemol Beyond USA, offering a prime example of how MCNs can maximise the value of their talent and content to meet the increasingly diverse preferences and expectations of today's online audience.
The MCN direct-to-viewer model offers a highly-tailored and purpose-built space to increase direct-engagement with consumers, offering behind-the scenes, long-form, and exclusive content via a platform that carefully aggregates, engages and evolves alongside its audience. As a result, MCNs can greatly expand revenue opportunities and drive up customer satisfaction, simultaneously addressing the inconvenience of content and platform fragmentation.
Another important benefit of having a dedicated video hub is that it allows the MCN to regain control of their own content. When content is syndicated to different platforms like YouTube, Vevo or DailyMotion the ability to control how their content is showcased and retain revenue for eyeballs is greatly diminished. The risks of brand damage are heightened when related videos or ads that are be directly opposed or unsavoury (adult themed related videos placed next to kid-friendly content, for example) are presented to the viewer. This concern becomes increasingly valid as the sheer amount of content, and the sophistication of trolls and malicious users, increases. Thus, to be able to control not the content itself but the items and ads that appear around it can offer piece of mind for an MCN.
Moving forward, creating the means to exercise greater control over the way content is discovered and delivered should be at the forefront of every MCN's audience engagement and monetisation strategy. MCNs that invest in their own channel have the opportunity to build hyper-personalised functionality into their design, taking into account viewer preferences into the user interface, advertising, personalised notifications and improved content discovery. All things that are currently not possible when syndicating to third party platforms. The MCNs that focus on continuously adapting to changing consumer demands have a far greater chance of retaining viewer loyalty, and profitability over the long-term.
The partnership between YouTube and MCNs will continue to launch an infinite number of successful video personalities and media careers, driven by the mutually beneficial relationship that has created the high-value platform we know today. However, MCNs should also embrace the opportunity to increase their presence and improve their audience's experience by establishing avenues for direct engagement. The future holds great promise for MCNs that are able to leverage the expanse of the media landscape and drive partnerships across the broadcast, OTT and social media spaces, while providing a purpose-built platform for their own talent to shine.
This article was originally published by TBI Vision on 7 December 2015.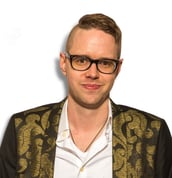 Miles Weaver is Piksel's Innovation Lead, overseeing the strategy, development and management of concepts stemming from Piksel's Innovation Programme. Miles is an avid commentator on the digital TV revolution speaking regularly at industry events and being published in The Guardian and Read/Write. Connect with him at @MrMilesWeaver