Over the past eight weeks we've looked extensively at the differing components of Piksel's Fuse Metadata product – matching and enrichment, which comprise the Manager module, and augmentation, which makes up the Creator module. Looking at both the strategic and technical opportunities and challenges, it becomes clear that addressing them today is one of the most important things a broadcaster or service provider can do – the more entrenched a current flawed system becomes, the more difficult it becomes for users to have pleasing experiences about the service they're using.
The friction that users experience with a service from sub-par search and discovery experiences can have a distinctly negative effect on their perception of a service. Rovi's Cord Cutting survey, published in September 2015, showed that users are regularly frustrated by poor quality search and discovery experiences, leading almost 10% to turn off their TV every time they cannot find what they're looking for. It can be incredibly damaging to customer loyalty and engagement on a long term basis, which is probably why the same survey showed that two thirds of those surveyed said they would consider switching to a provider that offered better search and discovery (or upgrading/renewing the contracts if their current supplier improved their search and discovery capabilities). Good customer experience breeds happy, loyal customers.
If things like having a cleaner, more consistently organized, more efficiently searchable metadata catalogue don't matter to you (and they should), it's this key thing that should grab your attention. Users will pay for better search and discovery. Users will pay, in effect, for better metadata. Fuse Metadata, as discussed over the previous entries in this series, enables you to consolidate your existing library, enrich it with third party metadata from sources like Rotten Tomatoes and IMDB, and then create entirely new types of metadata that will take the search and discovery potential of your content to a level unrivaled by other platforms.
If you're interested in knowing more download our white paper by clicking the image below. It gives more detail in both the how and the why of Fuse Metadata.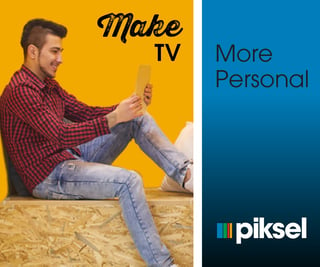 We have an exclusive demo suite at the Okura hotel, just across from the RAI Convention Centre, where we will be walking through both the Manager and Creator modules, and detailing how it can be integrated into existing systems and workflows.
Miles Weaver is Director of Product Marketing at Piksel. Miles is an avid commentator on the digital TV revolution speaking regularly at industry events and being published in The Guardian and Read/Write. Connect with him at @MrMilesWeaver