JB&A named Piksel's official Sales Partner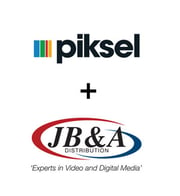 San Francisco, CA, December 17, 2014 (Marketwired) -- JB&A and Piksel together announce a strategic channel partnership to expand market reach in video management, distribution, and monetization solutions. JB&A is now an official Sales Partner of Piksel's portfolio of solutions and services, in particular the Piksel Video Platform.
"We are very excited to have partnered with JB&A, who now joins our existing roster of world-class channel partners," said Don Whaley, Piksel's VP of Global Channels. "Strategic partnerships like these will further enable us to help our customers evolve their business models and infrastructures with the industry shift towards a multi-screen environment. I'm confident that JB&A will add a great deal of value to our solution and services offering, and play an important role in our overall growth strategy."
Piksel's award-winning suite of products and services for online video delivery includes a fully featured SaaS video platform, multiscreen, and social applications, as well as broadcast-grade hosting and support are now available through JB&A's growing network of solution providers.
Since 1996, JB&A has focused on building trusted relationships with its technology partners, by creating end-to-end media management and IP video distribution solutions for video professionals. In collaboration with both technology manufacturers and resellers, JB&A is able to customize end–to–end workflow solutions to meet the evolving needs of the media and broadcasting industries throughout North America.
"We are excited to represent a company that has helped to design, build, and manage online video services for several major media companies," said Jeff Burgess, JB&A CEO. "Piksel's award-winning product innovations enhance our existing portfolio and add additional value to our digital media and video management and distribution solutions."
The addition of JB&A illustrates Piksel's intent to expand its market reach building on existing channel partnerships. Piksel will benefit from JB&A's expertise as Consultant, Channel Partner, Solutions Provider and Distributor, and leverage its ecosystem of resale partners to further expand market reach for Piksel products and workflow solutions.
For additional information on JB&A, please visit www.jbanda.com. For additional information on Piksel, please visit www.piksel.com.
About JB&A
Founded in 1996, JB&A is a leader in the field of Digital Media and Video Technology. They are dedicated to bringing the most innovative and complete Digital Media Management, IPTV, Streaming, Digital Projection and Connectivity solutions to market. JB&A is staffed by industry experts, and provides support in every step of the pre and post sales process. JB&A is a unique mix of Consultant, Channel Partner, Solutions Provider and Distributor with an ecosystem of certified, tested and proven products and workflow solutions.
For more info, visit http://www.jbanda.com
Twitter https://twitter.com/JBA_Dist
LinkedIn https://www.linkedin.com/company/jb&a
Facebook https://www.facebook.com/JBAdist
About Piksel
Piksel helps the world's leading brands maximize their reach and return with video.
Comprised of a global team of experts they call 'Televisionaries,' Piksel has helped to design, build, and manage online video services for major media companies like AT&T, BSkyB, Mediaset, and Sky Deutschland, as well as enterprise brands like Airbus, Barnes & Noble, and Volkswagen. Headquartered in New York City, Piksel offices can be found throughout Europe and the Americas. Follow the company on Twitter @piksel
#######

JB&A Media Contact
Laura Genoway
Marketing Manager
T: +1 415 256 2800
E: laurag@jbanda.com

Piksel Media Contact
Tarley Jordan
Marketing and Communications Manager
T: +1 (646) 801 4695
E: tarley.jordan@piksel.com
Platform PR for Piksel
Alice Talbot
Global Account Manager
T: +44 207 486 4900
E: alice@platformpr.com