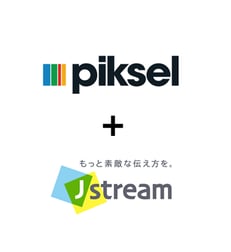 LAS VEGAS, NV, April 10, 2014 (Marketwired) -- Piksel, a global provider of video monetization software and services, announced today a new partnership with J-Stream, Japan's largest content delivery network, to become an official reseller of the Piksel Video Platform and white-label it as J-Stream MediaLize.
"We are pleased to formalize our partnership with J-Stream and assist them in launching MediaLize. There's no question that through this partnership Japanese content creators, aggregators and distributors will have immediate and powerful access to maximize the reach and return of their video assets. Whether media is your business or supports your business, Piksel's video content solutions and J-Stream MediaLize provide an attractive option for those who want to take full advantage of broadcasting video content, without compromising quality of the viewing experience," said Mark Portu, Piksel's Chief Product Officer.
"J-Stream is excited to customize Piksel's award-winning video content solution and launch it as MediaLize in Japan, offered with our content delivery network. Our customers are creating video content every day and want to be free to decide where and when to distribute it, and on what devices it will be available. MediaLize allows them to unlock their content's full potential with exciting features such as broadcast grade live and on demand capabilities, television-style channel programming with an electronic program guide (EPG), social media integration and deep analytics. The software-as-a-service (SaaS) model of Piksel's Video Platform means that our customer base can quickly and affordably reach their audiences with video, while at the same time influencing the evolution of the platform according to the way they use it. It's this flexibility with Piksel that led us to choosing them as our partner," said Satoru Miyama, Corporate Senior Officer, CDN & ASP Business Unit of J-Stream.
Piksel's Video Platform, part of the Piksel Palette, is used by almost 1,000 companies worldwide driving over 4.5 billion video views and 40,000 live streaming events annually. It is a SaaS solution that makes it easy to manage, measure, monetize, and broadcast video content to a myriad of devices such as websites, Roku channels, mobile apps, social media networks, digital signage and large event screens. Its features include live and simulated-live broadcasting, 24/7 live support, white-labeling, multi-site/time shifting broadcasting, all displayed within a fully customizable branded video player.
For more information, visit www.piksel.com/products.
###
About Piksel
We help the world's leading brands maximize their reach and return with video.
Comprised of a global team of experts we call 'televisionaries', Piksel has helped to design, build, and manage online video services for major media companies like AT&T, BSkyB, Mediaset, and Sky Deutschland, as well as enterprise brands like Airbus, Barnes & Noble, and Volkswagen.
Headquartered in New York City, Piksel offices can be found throughout Europe and the Americas, serving more than 1,600 clients in over 50 countries.
Follow the company on Twitter at www.twitter.com/piksel
About J-Stream
J-Stream Inc. (listed on TSE-Mothers : 4308) is the first company in Japan to offer streaming service. We boast a track record and experience in helping companies in the practical application of online video data unparalleled in Japan. With our CDN network for streaming in Japan, we support major streaming media, including Flash Video and Windows Media. We are an online video general solutions company that not only provides delivery, but also performs the design and production of videos/rich content, and provides peripheral solution services.
Piksel Media Contact
Tarley Jordan
Marketing and Communications Manager
T: +1 (646) 801 4695
E: tarley.jordan@piksel.com
TallGrass PR for Piksel
John Lee
T: +1 (917) 653 3444
E: john.lee@tallgrasspr.com