Piksel Guard now integrates all major DRM technologies into one solution, supporting all main video formats, standards and distribution technologies
Piksel Guard now supports Widevine Modular DRM
Piksel Guard now enables seamless protection for multiscreen video delivery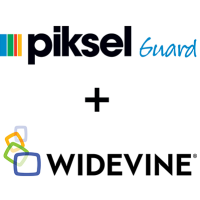 NEW YORK, NY, March 4, 2015 -- Piksel, a global provider of video monetization software and solutions, today announces the latest release of its multi-DRM software product, Piksel Guard, which now supports all major DRM technologies that online video providers use for their valuable video assets. With this release, Piksel takes a further step towards ensuring that online video providers can maintain the highest level of flexibility possible in today's rapidly evolving, fluid TV landscape.
For service providers, DRM is essential for stemming losses incurred through piracy, estimated to be around $80 billion a year globally (NetNames, 2013). When it comes to protecting content rights in today's multiscreen world, the rapid release of new browser updates, product firmware updates, and third party add-ons makes flexibility a necessity for service providers. To stay competitive, DRM support must be able to adapt quickly to be as extensive as possible; inactivity in this space is not an option.
To address this issue, Piksel Guard now supports Widevine Modular DRM, in addition to other key DRM technologies, including Microsoft PlayReady, Apple AES-128, and Marlin Broadband– as well as future proofed technologies such as MPEG-DASH and CENC.
"The proliferation of connected devices, the rapid pace of technological change, and the fiercely competitive nature of the web browser market is making navigation of the DRM landscape increasingly complex for content aggregators and distributors across the globe," said Mark Christie, Chief Technology Officer, Piksel. "DRM is of critical importance to the future of successful pay-TV and content services, and providers need to make sure that they have protection across all the major technologies and devices. The integration of Widevine Modular DRM into Piksel Guard is one of the many ways we're making our customers' services as robust and future-proof as possible."
With Piksel Guard now supporting Widevine, over-the-top content providers will be able to extend their service seamlessly to all devices supporting such technology, notably HTML5 applications on Chrome browsers and on Android devices, at a fraction of the costs that other DRM technologies require.
Brian Baker, Head of Widevine, said, "An OTT business with a DRM strategy that restricts what devices its content can be played on faces an uphill struggle to remain competitive. The integration of our industry-leading technology into the Piksel Guard solution gives its customers peace of mind that their content will be both viewable and protected across an extensive range of devices and platforms, and not vulnerable to unauthorized activity and misuse."
Currently deployed in several world-class OTT solutions globally, Piksel Guard is offered for on-premises or in-the-cloud installation, as part of a pre-existing OTT solution or as a feature of a bespoke solution built by Piksel. The highly configurable solution allows the use of multiple DRMs to address different devices, and can easily switch between DRMs with minor impacts on existing back-end systems.
Piksel Guard is a key component of the Piksel Palette, Piksel's modular services-oriented architecture that allows customers to select elements of Piksel's portfolio for their specific business needs. Flexible and multi-DRM protection is available to customers as part of the full end-to-end online video solution that Piksel builds and manages.
Piksel will host a webinar on Multi-DRM March 12, 2015 at 10am EST. You can register here or by visiting piksel.com/insights.
###
About Widevine - Connecting Digital Content to Consumers™
Widevine provides digital media solutions for the delivery of digital entertainment to any device. Widevine's DRM solution enables service providers to secure high quality video and audio. Today, millions of consumers enjoy digital entertainment secured and optimized by Widevine on retail consumer electronics devices from all major consumer brands.
About Piksel
We help the world's leading brands maximize their reach and return with video.
Comprised of a global team of experts we call 'Televisionaries,' Piksel has helped to design, build, and manage online video services for major media companies like AT&T, BSkyB, Mediaset, and Sky Deutschland, as well as enterprise brands like Airbus, Barnes & Noble, and Volkswagen.
Headquartered in New York City, Piksel offices can be found throughout Europe and the Americas.
Follow the company on Twitter at www.twitter.com/piksel
Piksel Media Contact:
Tarley Jordan
Marketing and Communications Manager
T: +1 (646) 801 4695
E: tarley.jordan@piksel.com
Platform PR for Piksel:
Alice Talbot
Global Account Manager
T: +44 207 486 4900
E: alice@platformpr.com