Sharp welcomes Piksel into Sharp's STAR Alliance Program and underscores its commitment to the U.S. digital signage market
Piksel's digital signage solution, Piksel EnterpriseTV™, is recognized as a complementary solution to Sharp's market leading portfolio of professional display products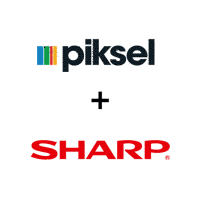 NEW YORK, NY, May 19, 2015 – Piksel, a global provider of video monetization software and solutions designed to maximize the reach and return of video, is now a member of Sharp's Strategic Technology Alliance Resource (STAR) program.
Digital media and video has become an important way for companies to relay information to their staff and customers; however, businesses need assurance that the underlying technology not only fits their business requirements, but that it runs smoothly on the professional display hardware that companies have invested in. Piksel's collaboration with Sharp recognizes the strengths of Piksel's digital signage solution, Piksel EnterpriseTV™, as well as Piksel's unique ability to support customers in digital signage and online video.
Piksel EnterpriseTV allows organizations to create a TV channel to amplify communications internally or externally, by broadcasting messages live or on-demand to a range of devices such as digital displays, directional signs, and websites. Piksel also offers a combined end-to-end digital media management and communications platform called Piksel Digital Enterprise™ for enterprise clients that want to manage both their digital signage and online video content from the same media asset library and platform.
"Digital signage solutions enhance communications because they enable organizations to share information in a quick, reliable, and highly effective way," said Gary Bailer, Director of Product Management for Pro AV Products at Sharp Electronics Corporation. "Our professional displays are used in all types of communication settings, so we need innovative alliance members that are versatile enough to maximize the effectiveness of our market-leading display systems. Piksel's EnterpriseTV solution integrates seamlessly into our display systems, helping to maximize the audio/visual communications of our customers."
To show how Piksel's software seamlessly complements Sharp's professional display products, Piksel EnterpriseTV ran on a Sharp display during Digital Signage Expo in Las Vegas, NV.
Don Whaley, Vice President of Global Channels at Piksel commented: "We are excited to work with a market leader like Sharp and become a member of their STAR program with Piksel EnterpriseTV. Global companies need to be confident that their digital signage solutions work seamlessly with a variety of display configurations and geographic locations, so that they can effectively keep prospects, customers, partners and employees informed and engaged. Piksel EnterpriseTV combined with Sharp display solutions meet those needs. In addition, Piksel Digital Enterprise can manage both digital signage and online video from the same platform. This means that we can help any organization maximize the reach and return of not only their digital signage, but also their online video while making the process simple, fast, and cost-effective for the user."
###
Notes to editors
Sharp's Strategic Technology Alliance Resource (STAR) program is a directory of third-party products and services that complements Sharp's professional display products.
About Piksel
We help the world's leading brands maximize their reach and return with video.
Comprised of a global team of experts we call 'Televisionaries,' Piksel has helped to design, build, and manage online video services for major media companies like AT&T, BSkyB, Mediaset, and Sky Deutschland, as well as enterprise brands like Airbus, Barnes & Noble, and Volkswagen.
Headquartered in New York City, Piksel offices can be found throughout Europe and the Americas.
Follow the company on Twitter at www.twitter.com/piksel
About Sharp Electronics Corporation
Sharp Electronics Corporation is the U.S. subsidiary of Japan's Sharp Corporation, a worldwide developer and manufacturer of one-of-a-kind premium technology products. Sharp was named one of the Most Admired Brands in America and one of the 20 Most Loved Companies globally**.
**Sources: Buyology Inc., 2012; APCO Worldwide, 2013.
About Sharp Imaging and Information Company of America
Through U.S. B2B sales channels, Sharp is one of the top selling brands for Large Format Commercial Displays, has the #1 revenue share for 60"+ Commercial Displays, and is the #1 selling brand for 55"+ Commercial Integrated Touch Displays***. Sharp's professional and commercial displays are specially engineered for business applications and are offered in a wide range of sizes. From high-impact displays for digital signage, to our award-winning ultra-thin bezel video walls, to the innovative AQUOS BOARD™ interactive display systems, Sharp products help you communicate, collaborate and disseminate information brilliantly.
***According to Monthly Large Format Commercial Displays Report by DisplaySearch (now part of IHS), January 2015.
For more information on Sharp's energy efficient products, contact Sharp Electronics Corporation, Sharp Plaza, Mahwah, N.J., 07495-1163. For online product information, visit Sharp's web site at www.sharpusa.com/monitors.
Become a fan of Sharp Business on Facebook, follow us on Twitter and watch us on YouTube.
Piksel Media Contact:
Tarley Jordan
Marketing and Communications Manager
T: +1 (646) 801 4695
E: tarley.jordan@piksel.com
Platform PR for Piksel:
Alice Talbot
Global Account Manager
T: +44 207 486 4900
E: alice@platformpr.com