Piksel launches Consumer Insights service in partnership with Strategy Analytics to analyze consumer attitudes towards content offerings
Piksel's OTT customers can now gain access to invaluable data around viewer behaviors
Consumer Insights service adds to Piksel's comprehensive Strategic Services offering which positions OTT providers for success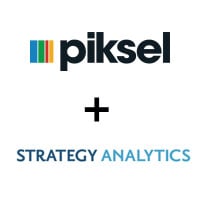 NEW YORK, NY, April 8th, 2015 -- Piksel, a global provider of video monetization software and solutions designed to maximize the reach and return of video, today announced the launch of its Consumer Insights service in partnership with international analyst firm Strategy Analytics. The service gives Piksel customers the tools to understand consumer behaviors and choices around content so they can create robust and profitable service offerings.
The service forms the third part of Piksel's Strategic Services Business Unit, which also includes the company's business modeling service and its content acquisition arm. Piksel's business modeling tool calculates the most sustainable monetization strategies available to companies wishing to launch OTT (over-the-top) services, on a bespoke basis. The Piksel content acquisition service completes a full "procurement to playout" solution, helping companies identify what their content needs are before going on to broker those specific deals with content owners on their behalf.
"Strategy Analytics is delighted to be working exclusively with Piksel to offer our research services. Piksel's interest in its clients' ongoing business success sets them apart as a company, and strengthens its leadership in online video," said David Mercer, Principal Analyst at Strategy Analytics. Arleen Macaraeg-Denque, VP of Consumer Insights Practice at Strategy Analytics, commented: "It is becoming increasingly apparent that today's subscribers are not prepared to pay for content that they don't want. Piksel's Consumer Insights service helps OTT providers overcome these challenges by reducing the risk of bringing to market an unattractive content offering."
Strategy Analytics utilizes a research technique called Discrete Choice Modeling (DCM) to assess consumer demand for a set of products or services, based on a number of key purchase considerations. The DCM research simulates a shopping situation, surveying consumers' interest in a series of "what-if" scenarios based on factors such as video content type, payment plan options, subscription price, and acceptance of advertising. Piksel and Strategy Analytics have launched its first DCM research and will share some of the study highlights at the 2015 NAB Show, Las Vegas, April 11 – 16.
Fabrice Hamaide, Chief Financial Officer, Piksel, commented: "Through our partnership with Strategy Analytics, Piksel is now able to provide companies with invaluable data around what consumers actually want from their content services. This type of insight is of paramount importance at a time when consumer demands are dictating the way the video industry is evolving. Companies that wish to leverage the opportunities of a burgeoning OTT market cannot do so successfully unless they understand the preferences of their audiences."
Piksel's Strategic Services Business Unit sits alongside its Professional Services and Managed Services capabilities. The company has a longstanding heritage in delivering professional and managed services to its broadcast, cable and online video customers and is committed to offering a services-led approach in order to help OTT providers thrive in the new connected era of video. Its triumvirate of services capabilities is truly end-to-end:
###
Note to editors
If you would like to book a meeting to talk with a Piksel spokesperson at the 2015 NAB Show, please contact Catrin Owen of Platform PR on catrin@platformpr.com or +44 207 486 4900.
About Piksel
We help the world's leading brands maximize their reach and return with video.
Comprised of a global team of experts we call 'Televisionaries,' Piksel has helped to design, build, and manage online video services for major media companies like AT&T, BSkyB, Mediaset, and Sky Deutschland, as well as enterprise brands like Airbus, Barnes & Noble, and Volkswagen.
Headquartered in New York City, Piksel offices can be found throughout Europe and the Americas.
Follow the company on Twitter at www.twitter.com/piksel
Piksel Media Contact:
Tarley Jordan
Marketing and Communications Manager
T: +1 (646) 801 4695
E: tarley.jordan@piksel.com
Platform PR for Piksel:
Alice Talbot
Global Account Manager
T: +44 207 486 4900
E: alice@platformpr.com
About Strategy Analytics
Strategy Analytics, Inc. provides the competitive edge with advisory services, consulting and actionable market intelligence for emerging technology, mobile and wireless, digital consumer and automotive electronics companies. With offices in North America, Europe and Asia, Strategy Analytics delivers insights for enterprise success. www.StrategyAnalytics.com
Strategy Analytics contact:
David Mercer
Vice President, Principal Analyst
Digital Consumer Practice
T: +44 1908 423610
E: dmercer@strategyanalytics.com