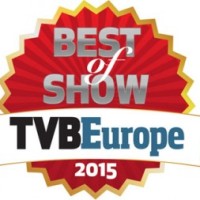 NEW YORK, NY, September 16, 2015- Piksel, a global leader in building successful online video businesses, today announces that its travel entertainment app, Piksel Voyage™ has won Newbay Media's Best of Show award from TVBEurope. The award honors outstanding products, and was announced following booth visits by the judging panel during IBC 2015.
The winning solution, designed for land, sea, and air travel providers, enables consumers to browse and download entertainment, from a library of diverse and in-demand content, to a personal device of their choosing once they purchase their ticket. The content is locked until passengers depart, and deleted from their device once the journey is over. Taking advantage of the Bring Your Own Device (BYOD) trend, the app allows providers to offer a high-quality entertainment service to passengers, without relying on on-board WiFi, hardware, or equipment. Underpinned by Piksel's cloud-based SaaS platform, the Piksel Palette™, businesses are able to easily upgrade their services and rapidly launch new features to continuously meet passenger demands.
Neil Berry, EVP Commercial, EMEA at Piksel commented: "Piksel Voyage is a groundbreaking way of improving the passenger experience, by providing consumers with a premium travel entertainment service at a minimal cost. Because Piksel Voyage also collects insights about the passenger, providers are able to extend their customer engagement well beyond the travel experience. We are thrilled to have Piksel Voyage recognized as Best of Show at IBC 2015, and believe that this service will quickly become the preferred model across the travel industry."
The award follows Piksel's announcement of their partnership with European airline carrier, Transavia, earlier this year. Transavia launched its in-flight entertainment app, developed using Piksel Voyage, in June 2015.
The IBC 2015 Best of Show Awards are run by Newbay Media, and winners are chosen separately by the publications Newbay Media produces, including TVBEurope.
To learn more about Piksel Voyage and see a demonstration, book an appointment online.

###
About Piksel
Piksel has been building successful online video businesses for over a decade. Our offering of strategic, professional and managed services is underpinned by the Piksel Palette's SaaS-based infrastructure. It's this recipe that enables our media and entertainment clients to prosper in today's video market.
Piksel's unrivaled expertise is in designing, building, managing, and investing in online video solutions for the likes of AT&T, BSkyB, Channel 4, Liberty Global, Mediaset, OSN and Transavia. Headquartered in New York City, Piksel offices can be found throughout Europe and the Americas.
Connect with us: Twitter, LinkedIn, Facebook, YouTube, and Google+.
Piksel Media Contact:
Tarley Jordan
Marketing and Communications Manager
T: +1 (646) 801 4695
E: tarley.jordan@piksel.com
Platform PR for Piksel:
Alice Talbot
Global Account Manager
T: +44 207 486 4900
E: alice@platformpr.com